Overview
Europe Industrial Air Filtration Market size was evaluated at $1.1 billion for 2014 and is anticipated to surpass $1.9 billion mark by end of forecast timeframe registering a CAGR of 7.91%. Legislations related to food safety along with retailer production standards and conventions of practice for high risk food production offers opportunities for industry expansion.
Germany industrial air filtration market size by application, 2012 - 2022 (USD Million)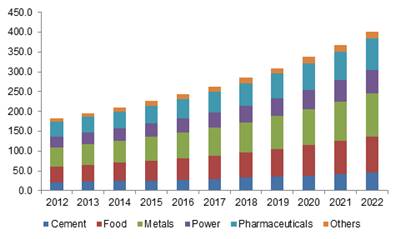 Growing responsibility on part of food producers to recognize and control potential risks by using risk assessment system like HACCP (Hazard Analysis Critical Control Point) also offer industry growth avenues.Strict rules and different government norms regarding emission control are anticipated to be key factors stimulating Europe industrial air filtration industry growth during forecast timeframe. Legal enforcements related to health & safety policies are predicted to propel product demand in future.
Read full market research report "Europe Industrial Air Filtration Market Size By Application (Cement, Power, Food, Metals, Pharmaceuticals), By Product (Dust Collectors, HEPA Filters, Mist Collectors, Baghouse Filters, Cartridge Collectors & Filters), By Country (Germany, UK, France, Italy, Turkey, Sweden, Spain, Poland), Industry Analysis Report, Regional Outlook, Application Potential, Competitive Market Share & Forecast, 2015 – 2022", please click on the link below:
Europe industrial air filtration market is segmented into varied products like mist collectors, cartridge collectors & filters, dust collectors, baghouse filters and HEPA filters.Mist collectors segment is predicted to record CAGR of 8.11% during forecast timeframe.Dust collectors segment contributed more than 20.1% of total revenue and is predicted to register CAGR of 7.81% during forecast timeframe. Further, they provide numerous advantages like low functional costs, enhanced productivity and health & safety of workers. All these factors are predicted to fuel industry growth.
HEPA filters segment is predicted to dominate the Europe industrial air filtration industry during forecast timeframe. Use of these filters in food & beverages and pharmaceuticals to prevent bacterial infection as well as air quality maintenance are few of the factors predicted to contribute towards segment growth. Rising demand for products delivering high performance and enhanced efficacy along with less power consumption is predicted to positively affect Europe industrial air filtration market during forecast timeframe.
Europe industrial air filtration industry is segmented into various applications like pharmaceuticals, cement, metals, food and power.Cement sector contributed more than 12.1% of Europe industrial air filtration industry share for 2014 and is predicted to record CAGR of 7.61% during forecast timeline.
Food, metals and power sectors are predicted to be high growth end users sectors for the industry. Strict norms regarding dust emission limit are predicted to key growth drivers for these sectors.
UK industrial air filtration industry is predicted to register CAGR of about 7.51% during forecast timeline. Regions like Greater London and South East London contribute maximum revenue share in UK due to rising amount of households, growing GDHI( Gross Disposable Household Income) and consciousness about air contamination. Germany contributed significantly to the overall Europe industrial air filtration market share for 2014. HEPA filters are predicted to experience expansion in the region during forecast timeline. Rising expenditure on food & beverage sector in Germany coupled with significant amount of metal processing sectors is predicted to offer a boost to regional revenue production.
Major industry participants like Camfil, Clarcor and Donaldson Company contributed for more than half of Europe industrial air filtration industry share for 2014. Industry is featured by tough competition with few key industry players concentrating on mergers & acquisitions to enhance their industry share. Technological breakthroughs and growth of inexpensive filtration solutions is also predicted to positively affect industry growth in future.
Key industry players profiled in the report include Andrew Industries, Testori, AAF,
TEKA,
Mahle, Purafil, Mortelecque,
Pall Corporation, Keller Luftechnik,
W.L. Gore, Camfil, iFil, Clarcor Incorporation, Freudenberg, Flanders Corporation, Absolent Group & Bristol, BWF, Cummins Filtration, Donaldson Company, Flow Air Filters, Gutsche, Kayser, Kemper,
Losma, Mann Hummel, Nederman, Nordic Air Filtration, Plymovent, SPX Corporation,
TTL and Vokes Air.