Global Air Compressor Market size is projected to be valued at $39.29 billion for 2023 and register CAGR of 3.61% during forecast timeline. Significant demand across number of industries is predicted to be the main industry growth factor.
U.S. air compressor market size, by application, 2012 - 2023 (USD Million)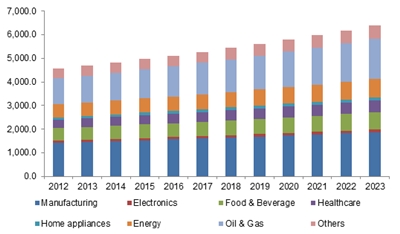 These equipments act as reliable sources of energy for construction sector tools and industrial applications. Increasing raw material costs are projected to directly affect air compressor industry price trends.Key air compressor market trends include rising acceptance of remote sensing technique to check performance, save power and provide reliability. Increasing power efficacy measures are anticipated to drive industry growth and display product growth initiatives.
Read full market research report
"
Air Compressor Market Size By Technology (Screw/Rotary, Reciprocating, Centrifugal), By Product (Portable, Stationary), By Lubrication (Oil Free, Oil Filled), By Application (Home Appliances, Food & Beverage, Oil & Gas, Energy, Semiconductors & Electronics, Manufacturing, Healthcare), Industry Analysis Report, Regional Outlook, Application Potential, Price Trends, Competitive Market Share & Forecast, 2016 – 2023"
, please click on the link below:
Global industry is segmented into various technologies like centrifugal technology, rotary technology and reciprocating technology.Rotary Technology contributed greater than 45.1% of the overall revenue production for 2015. While centrifugal technology is predicted to register CAGR of more than 4.1% during forecast timeframe. Reciprocating air compressor industry is projected to cross $8.1 billion by end of forecast timeline.
Global air compressor market is segmented into various products like stationary air compressors and portable air compressors.Portable air compressors segment contributed greater than 40.1% of global industry share for 2015 and is predicted to experience expansion in future. Favorable government policies on power conservation and growing customer consciousness are projected to stimulate the demand during forecast timeline. In addition to this, rising demand for improved air quality is anticipated to promote the segment growth.
Global air compressor industry is segmented into various lubricants like oil filled lubricants and oil free lubricants.Oil filled lubricants are predicted to dominate the lubricant segment for a long time. Oil free air compressor market share surpassed $10.1 billion for 2015. Reduced maintenance costs, retrofit demand, variable speed device acceptance and retrofit demand are factors projected to promote segment growth.
The industry is segmented into varied applications like healthcare, home appliances, oil & gas, production, food & beverage, energy and semiconductors & electronics. The production segment is predicted to dominate air compressor market in future with more than 35.1% of global industry share.
In food & beverage segment, air compressors find applications in manufacturing processes like boxing & packing items, cooling food items and pressurize transportation with pure air.


In oil & gas segment, these devices ensure long membrane service life and prevent potential shutdowns as well as expensive substitutions of nitrogen blankets needed in LNG tankers and transfer stations. Further, they also encourage errorless functions of old devices and avoids oil pollution that can harm responsive controls.
Global air compressor market is segmented into various geographical regions like North America, MEA, Europe, APAC and Latin America.
APAC air compressor industry is expected to expand by more than 4.6% during forecast timeframe.India and China are predicted to contribute substantially towards regional industry share.
Demand for air compressors is predicted to remain moderate in Europe and North America during forecast timeframe.
Key industry participants profiled in the air compressor industry report include Bauer Group,
Heynar, Cook Compression, General Electric, Ingersoll Rand,
MAT Industries, Sullair Corporation, Chicago Pneumatic, Atlas Copco,
Vanair, Hoerbiger, Gardner Denver, AireTex Compressors, VMAC Company, Frank Technologies,
Parker, BelAire Compressors, CPI, Galaxy Auto Service Equipment Company Limited, Gast Manufacturing, Grainger Company, Hitachi Industrial Equipment Systems Company Limited, Kaeser Compressors,
Oasis Manufacturing,
Rolair Systems and Zen Air Tech Private LimitedThese key players focus on mergers & acquisitions and invest substantially in research & development events to launch new products in global air compressor market.