Infrared Camera (IR) Market
growth is attributed to several key factors and is projected to surpass USD 6 billion at an increasing CAGR of 9% from 2016 to 2023. The report encapsulates complete analysis of the market with competitive landscape, market trends, future predictions, current scenario and estimation and market prospects. Key factors influencing the market like drivers, impediments, challenges, and opportunities, etc. are analyzed thoroughly in the report.
Europe (Infrared) IR camera market size, by application, 2012 - 2023 (USD Million)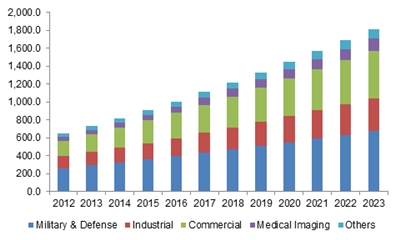 Decreasing prices due to technological proliferation and mass production are projected to be a key driving factor for the market growth. Advancement in microbolometer technology led to high degree of
commercialisation
and is expected to influence market growth positively shortly. Growing adoption in commercial and industrial applications across various security and surveillance applications, smart gadgets and high-resolution cameras is likely to fuel the growth over the forecast period.
Read full market research report "
(Infrared) IR Camera Market Size By Application (Commercial, Industrial, Medical, Military & Defense), By Material (Sapphire, Silicon, Germanium, Zinc Selenide), Industry Analysis Report, Regional Outlook, Application Potential, Price Trends, Competitive Market Share & Forecast, 2012 - 2023
", please click on the link below:
https://www.gminsights.com/industry-analysis/IR-infrared-camera-market-report
The advent and development in
miniaturisation
technology are projected to impact market growth positively during the predicted time frame. High investment in R&D, availability of reasonably priced products owing to mass production, and an array of multiple applications integrating this technology are the key factors contributing the market growth.
Decreasing
defence
spending in developed markets is predicted to pose a challenge to the market. Remote sensing and hyper spectral imaging offer the key avenues for industry players. An infrared camera is a viable tool in providing night-vision option in vehicles.
Decreasing LWIR (Long Wave Infrared) camera costs are likely to expand the scope in automotive, security and surveillance applications.
APAC, led by South Korea, India and Japan IR camera market, is expected to register growth at 10.3% CAGR and exceed USD 1.75 billion up to 2023. The surge is attributed to high demand in the defense sector in the region. The U.S. market share is anticipated to exhibit growth due to technology advancement and presence of major players in the area. Regulations regarding Energy Performance Certificates (EPCs) in many countries in the EU can favorably impact the market.
Military and defense applications are anticipated to exhibit growth during the projected period. Commercial and medical is set to register gains soon, at 10.4% CAGR by 2023.
The key participants in global Infrared camera market include
Focus on product performance and repute, cost, effective sales efforts and customer service are the key areas for market participants. Acquisitions and collaboration are also likely to play a vital role in the industry presence.