Automotive Collision Repair Market size was evaluated at $170.29 billion for 2014 and is projected to experience steady expansion during forecast timeframe. Growing number of automobiles along with aging vehicle fleet is the main factor predicted to favorably affect industry expansion. Rising amount of commercial automotives is predicted to fuel industry growth.
Increasing amount of vehicles in APAC nations of India and Japan is anticipated to drive automotive collision repair market trend. Initiatives taken by transport and government authorities for vehicle buyers to purchase insurance coverage for vehicle damage have contributed to the industry growth in APAC.
Europe automotive collision repair market size, by product (USD Billion), 2012 – 2022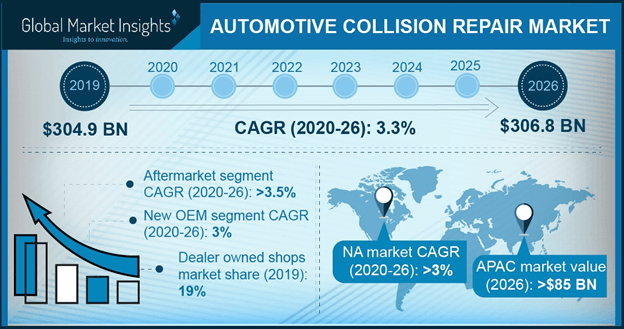 Rising passenger as well as goods transportation has led to heavy demand for public transport vehicles and commercial vehicles. These automobiles have high insurance needs which are predicted to fuel the expansion of industry size. Increasing frequency of intracity and intercity passenger & goods transport facilities is anticipated to enhance public & commercial automobile transport in future. Further, these automobiles also require repairs on large scale and this drives the industry expansion.
However, growing security requirements and inclusion of modernized telematics has resulted on less number of road accidents. This can hamper the industry growth & demand. Further, existence of volatile organic compounds in paints & coatings which can adversely affect the environment is predicted to inhibit the industry growth. Direct repair program networks can hinder the industry growth during forecast timeframe.
Automotive collision repair market has been segmented into three categories that include product, vehicle type and region.
Product segment comprise of paints, clear coatings and consumables. Paints contributed about more than 20% of the industry size for 2014. Consumables are predicted to display steady expansion in future. It comprises of specialty chemicals like adhesives and abrasives which are utilized for restoring vehicle external parts during repair work.
Vehicle type includes light-duty vehicle and heavy-duty vehicle. Light-duty vehicle segment is predicted to expand rapidly during forecast timeframe. It includes vehicle types like SUVs, sedans, crossover and hatchbacks. Heavy- duty vehicle segment includes multi-axle and commercial vehicles like buses and trucks. The industry is segmented into key regions like North America, APAC, Latin America, Europe and MEA.
Europe automotive collision repair industry size was evaluated at more than $71 billion for 2014. The growth of the industry in the region is credited to the presence of large amount of automotive firms.
APAC automotive collision repair market share is predicted to witness substantial expansion during forecast timeframe. Growing amount of economical car producers along with its heavy use in countries like India and China is projected to favorably affect the industry by 2022. U.S. industry size is anticipated to surpass $42 billion by end of forecast period.
Key industry players profiled in the report include
ATP Automotive, Faurecia, 3M,BASF, Continental Corporation, Honeywell International Incorporation, DuPont, Tokai Rika Company, Magna International Incorporation, MITSUBA Corporation, Affinia Group, Bosch,
DENSO Corp
oration, Tenneco Incorporation, Johnson Controls Incorporation, Federal-Mogul Holdings Corporation, Martinrea International Incorporation,
ZF Friedrichshafen AG, Takata
Corporation, Valeo, Yazaki Corporation and International Automotive Components Group.